Top 50 2k12: 33/34
33) Burn - Meek Mill x Big Sean
34) Ride Like That - Travis Porter
2k12 Top 50: 45-35
35-45 below, this is the last of the lists all other songs will be posted as youtube vids, enjoy!
35) Big Beast - Killer Mike x Bun B x T.I.
Great roster, haven't heard a vibe like that in this song in quite a while.
36) Lights Down Low - Bei Major x Waka
37) A1 Everything - Kendrick x Meek
38) Take it to the Head - Chris Brown x Everyone
Lil Wayne ruins everything he touches lately.
39) Young and Gettin It - Meek x Kirko
40) Miss America - J Cole
Very little J Cole this year, had to get him on this list somehow.
41) Ayy Ladies - Travis Porter x Tyga
One of the best samples I've heard in years.
42) Blessed - Schoolboy x Kendrick
43) Act Like That - Kid Ink
Kid Ink broaches a delicate subject in this ode to love and longevity of the bond between a man and a woman.
44) Pop It - YG
45) Cashin Out - Cash Out
When in doubt, name yourself after your only hit song. Love him or hate him, Cash Out has a condo around his wrist and he's cashin out.
49) Love Game - Tyga
Love was the mark, bullets to your heart.
50) Muthaf**** Up - Tyga x Nicki
WHY!?: Any rapper that can fit a Mr. Burns reference into a song gets my vote.
Time Of Your Life (remix) - Kid Ink x Tyga x CB
Get Low - Waka x Nicki x Tyga
2011 Rewind: Hip Hop's Top 50 (50-16)
Edit: Updated with more links.  If you see green hit it for the track.
The new year is creeping up on us so without further ado, here is the first installment of hip hop's top 50 songs for the passing calendar year.
Disclaimer: These are my top 50 tracks of 2011.  The great thing about hip hop is that in it's current state there are a million different forms of it, and therefore a plethora of artists and records every year.  There is no way I can listen to everything that comes out, so this is based off of my personal style.  This is in no way supposed to be seen as a 50 most popular songs of 2011 list, it's just my opinion.
So kick back, relax, and youtube some of these tracks.  They enhanced my year so maybe they can help carry you triumphantly into 2012.
50) Like My Bass – Tha Outfit feat iamsu! and others 
Bay Area song kicks off the list at number 50.  Never heard of it?  Me neither until I randomly picked up a compilation CD.  Smooth R&B/Hip Hop combo record.
49) Hey Muma – Cam'ron and Vado
48) Ima Boss – Meek Mill and Rick Ross
47) On My Level – Wiz and Too Short
46) Interlude – Andre 3000 and Tech N9ne
The best Carter IV track doesn't even feature Wayne…didn't see that coming.
45) The Hood – Stunnaman, Ty$, YG
Stunna has gotten worse and worse over time.  He peaked with Legendary and was lucky YG and Ty$ ere down to carry him through this record.
This song put Sean on the map.  Definitely not my favorite song of his, but it prefaced a big album.
43) Phone Numbers – Wiz, Trae, Big Sean
When I get paid my checks be lookin like phone numbers…let's be honest most of our checks barely look like area codes.  
42) No Hands – Waka and others
She said look ma no hands – a line that will live in infamy thanks to this record.  Wale killed it, Roscoe killed it, Waka was on it.  Great nonsensical track.
41) He's a Mental Giant – Tech N9ne
40) Dance – Big Sean
MC Hammer sample? Check.  Goofy premise? Check. Clever punchlines involving genitalia? Check.  This song has it all!
39) Am I A Psycho – Tech N9ne
38) Till Im Gone – Tinie Tempah and Wiz
Tinie is average on this song but this is the best Wiz chorus I've heard in a long time.
37) The Longest Text Message – Childish Gambino
Always witty and often unheralded Gambino has quietly had a huge 2011.  Fun fact: he reportedly wrote this track drunk, damn.
Defining Line: im tryin hard not to use a specific reference, but you probably know its you after the first sentence
36) Go To Work – Ty$ and Bobby Brackins
Typical Bobby Brackins formula: Get a great feature from Ty$ + use a crazy Nic Nac Beat + put together a dope video + rap just enough so people know it's a Bobby Brackins song = 90% of Brackins career.  He is below average on this track at best, but literally everything else about this was well done.  Check the video (hit the link above) and thank me later.
35) Bulletproof – Cyhi and Yelawolf
Two strong lyricists stepping out of their comfort zone on a surprisingly powerful beat? Great formula.
34) Dollar and a Dream III – J. Cole
33) Far Away – Tyga
Tyga came onto the scene this year out of nowhere, this was the track that signaled his arrival.  He cusses as often as he breathes so this track is a refreshing change of pace for him.  The music video though…random is an understatement.  Let's just say it's out of character for Tyga.
32) B**** Betta Have My Money – Tyga, Kurupt, YG
2 Tyga tracks in a row?  Yessir!  I expect big things from him, he's really matured as a rapper.  But this brings me to my main point…
Kurupt!!!  That feature alone warrants the inclusion of this track on my top 50 list.  He absolutely destroys his verse, like damn, dude can spit.  YG isn't half bad so long as the style he's attempting suits him, which this definitely does.
31) Next To You – Ty$ feat. Will.i.am
Sucker for house/hip-hop infusion tracks and nobody does it better than Ty$ right now.  Fast paced, obviously talented, and smooth production power this track.  Check out Hou$e on the Hill, his solo debut.  At last check it was a free download.
Great track but the hell is Roscoe wearing on his album cover? WHACK.
Defining Line: she actin all sidity this girl she know she bad she make her own money spend it like she never had
28) Yonkers – Tyler The Creator
Just based on what this track signified it deserved a spot on the list.  It ushered in a genre of super violent and weirdly eccentric hip hop that we haven't seen since maybe Eminem?  Applaud his creativity but remember, Tyler is more than meets the eye.  Under that murderous façade is a real rapper with legitimate talent.
Hit the link to see the music video that scared a whole damn country.  Call it creepy or edgy or whatever, it's definitely something I just have no idea what it is.
Fun fact: Tyler has never been to Yonkers.  He just said that name came to his mind when he made the track.  Odd.  Future.
27) High – Big Sean, Wiz, Chiddy
Defining Line: and I wish that this could last forever but maybe one night is even better
Defining Line 2: I got a big head h** I think it's crown sized
Defining Line 3: Saw me on the web like I had an extra 6 legs
26) Party on Fifth Ave. – Mac Miller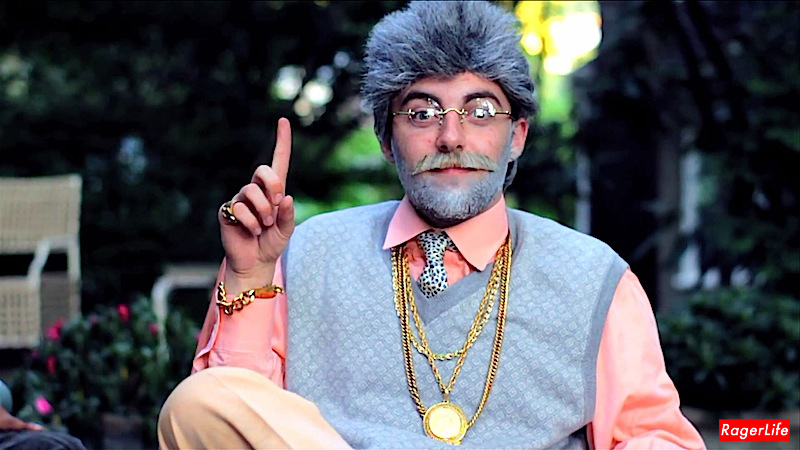 This music video cracks me up.  Mac as an old dude is hilarious.  This beat is insane.
Defining Line: whats the difference between me and you? No one believe in you and im flyer than beetlejuice
25) The Motto – Wayne and Drake
NOBODY THINKS WEARING BASEBALL GLOVES RECREATIONALLY IS COOL, STOP WHILE YOU'RE AHEAD DRAKE!!!
24) Fast Lane – Royce and Eminem
23) Smallville – XV
Produced by J. Cole, performed by XV, underrated combo putting out a solid track.
Easily the best All of The Lights re-imagining I've heard.  A sprawling beat that rivals the original in creativity is accompanied by witty lyrics thanks to Gambino.
Defining Line: I'm back in the game, coach put me in, t-pain flow, all I do is win
Defining Line 2: I kissed this girl I've liked since back when I was just a sophomore but I'm afraid to text her "what the f*** it take so long for?"
21) Fluorescent Lightings – Young L
Best record you've probably never even heard of.  Great beat put together by Young L on this one.  Based off a sample of Imogen Heap, L really went all out on this track.  
20) What Goes Around – Big Sean
Defining Line: Y'all make me realize how good 'almost' isn't, hate to look back on my life and say I almost did it
19) Underground Kings – Drake
18) Mr. Nice Watch – J. Cole
17) Rack City – Tyga
This gets ranked so high because years from now, we're still gonna be talking about this track.  Rack city chick rack rack city chick.
Defining Line: I need my money pronto, get it in the morning like Alonzo, rondo, green got cheese like a nacho
Defining Line 2: throwin hunnids hunnids
16) Slight Work – Wale and Big Sean
Great beat and pairing here.  You gotta work SLIGHT WORK.  The wrong drink? The right work.
Defining Line: we up in diamond supply spendin that carrot cake, let it marinate, you forever late, a million home sellers couldn't find a realer state
Top 15 coming soon…